Summer BBQ
Summer is finally here and so are our plans for the annual BC Swing Dance Club Summer BBQ!
This year, the BBQ will be held at the John Hendry Park picnic shelter at Trout lake: (map link) The event will take place on August 12 from 4:30 until around sunset.
We are happy to announce that the BBQ will be catered by Vera's Burger Shack. Vera's will be cooking up unlimited hot dogs, burgers, and veggie burgers with all the fixings, so bring your appetite. The club will also bring snack foods and salads, but we'd never say "no" if you wanted to bring a dish to share.
We are asking that club members contribute $5 towards the bbq and we welcome all non-dancing friends and family at a price of $15 per person (kids 12 and under eat free). Get to know your fellow dancers better and maybe even convert some of your non-dancing friends!
Please RSVP to the evite (http://evite.me/PFvW1ThKJT) so that we can get an idea of the number of people to prepare for.
See you there!
Summer Events Added
We're pleased to announce several dates for BC Swing Dance Activities over the summer:
 Downtown Dance: Saturday, July 15th – Scotiabank Dance Center
677 Davie Street, Vancouver, 3rd Floor, Birmingham Studio. Doors at 7:15, flashmob lesson from 7:30-8:30, taught by Michael and Amy Shibasaki, dance from 8:30 to 11:30.
Annual Member's BBQ: Saturday, August 12 – Trout Lake John Hendry Picnic Area
BBQ starts at 4:30, come socialize with members!

Robson Square: August 25: Details to be announced
2017 West Coast Swing Flash Mob!
Back by popular demand and this year supported by the BC Swing Dance Club, we are pleased to announce the details for the 2017 flash mob.
But wait – not sure what we're talking about?
A flash mob is a group of people who assemble suddenly in a public place, perform an unusual or entertaining activity of short duration. and then quickly disperse. Although the performance is short, it is usually preceded by weeks of planning, coordination, and practice.
In 2010, Damon and Lisa D'Amico choreographed a flash mob for locals in Houston, which soon spread across the North America, including to Vancouver, following the Sea to Sky WCS Convention (https://vimeo.com/16044409), and to Denver Colorado (https://www.youtube.com/watch?v=hHUOrPCh6YA).
Starting in 2014, there has been an annual International West Coast Swing flash mob organized and choreographed by Olivier and Virginie Massart and performed on the same day around the world. On September 3, 2016 more than 6,000 dancers participated in 240 cities (39 countries), including Vancouver (https://youtu.be/7SH7zo70Q6A). The official video can be seen at https://www.youtube.com/watch?v=O28PNwzB54k.
Although the official date for 2017 is again the Saturday of Labour Day weekend we will do our performance the following weekend (Sept 10) in order to increase local participation by avoiding a long weekend. Your first opportunity to learn the choreography will be at a special workshop taught by Michael and Amy Shibisaki at 7pm at the Confederation Centre, one hour before the June 10 BCSDC monthly dance (https://www.facebook.com/events/291364551319730/). If you want to get a head start on learning the choreography, watch and rewatch this video (https://www.youtube.com/watch?v=Mv7gHFiwj28).
We will be using the Facebook group https://www.facebook.com/groups/871261773004520/ to do most of the planning/discussions/organizing. All skill levels and abilities are welcome and encouraged, so please add yourself to the group, and we look forward to seeing you there!
Check Out The Survey Results
Head on over to our club documents section to check out the results of our club membership survey taken at the end of our 19th year (2016) as a club: http://bcswingdance.ca/index.php/bc-swing-dance-survey-results/
Come See Your Board In Action
The BC Swing Dance runs monthly board of directors meetings and welcomes club members to attend meetings with us. We reserve the first fifteen minutes of our board meetings for club members to raise issues with the board and also welcome anyone to sit and observe the rest of the meeting.
Check out http://bcswingdance.ca/index.php/board-minutes/ to see what we've been up to in past meetings.
We're Evolving!
Welcome to the new BC Swing Dance website. Here you'll find dance dates, information on West Coast Swing, and more information about the BC Swing Dance.
The 2017 board of directors has made it one of their initiatives to improve our online presence and we want to serve you better. If you have any suggestions about the website, our dances, or anything else, e-mail us at info@bcswingdance.ca
Nominations for the 2017 Board of Directors
February brings our Annual General Meeting, and an election for board of directors. If you know someone who would make a great director, please review the nomination documents below.
Information for Potential Nominees to the Board of the BC Swing Dance Club.pdf
To make a nomination, fill out the following form and give it to any current board member, either in person of by email:  Nomination Form.pdf
---
We thought we'd have fun this year and give the nominees a chance to "campaign".  This was our election table at the January dance.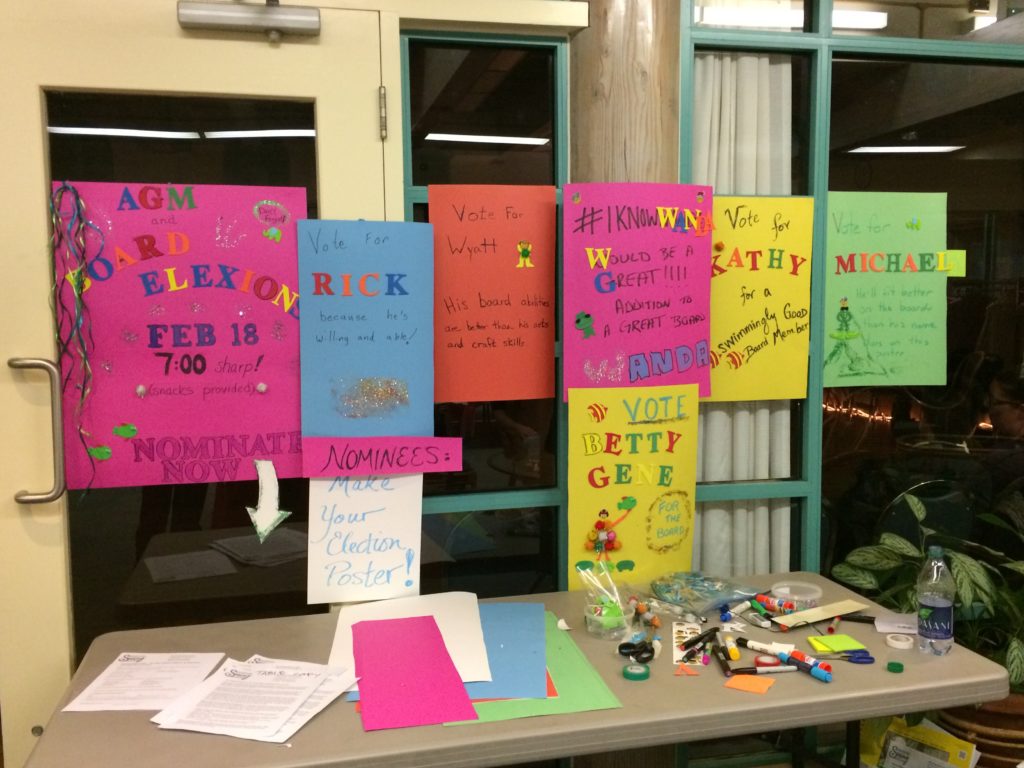 ---
Thanks to everyone who participated in the shoe swap at the January dance.